We have made our site now at WavyGuy.com so you can get more answers and new videos of signs being made.

Enter above for the newest pages related to sign making company in Aust.
Use the chart shown here before going to our online sign price system.
1. Choose a quantity of signs. Type in a number.
Quantities of signs are automatically given a discount signwriting price. This means, as your quantity increases, our online price calculator instantly reduces the price of your sign.
Shown on the right are individual sign prices and volume sign prices.
The Square Metreage of your sign is calculated automatically.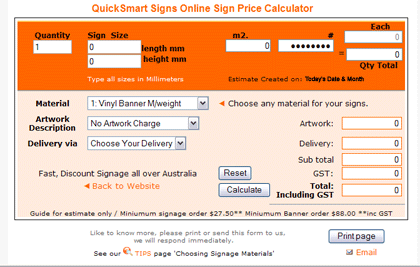 2. Type in any size for sign in millimeters. This sign price system is designed for Australia where we use millimeters to calculate area.
Eg. If your sign is 2 metres high, this would be typed into the price system as 2000
3. Choose a material. Use the drop down box to select materials used for signmaking such as Corflute, Banner Sign, Colorbond metal, plastic signs, double sided banners.
The price calculator will show you different prices for different materials instantly.
4. Choose if any artwork is required. If you can supply your own artwork ready for large sign production, No artwork is required.
If your signage will need us to adjust colors, lines or fonts, we may request a small artwork charge through to Complex artwork.
5. Choose your delivery. Our sign price calculator adjusts sizes and approximate weights for transport. Choose from Metro Delivery for All capital cities in Australia or Country Delivery for areas outside Melbourne, Sydney, Adelaide, Brisbane.
Press the Calculate button to instantly see how much a sign costs, how much a metal sign costs, a plastic sign etc. Your can compare prices of signage immediately.
HOW TO SEND US YOUR ONLINE QUOTATION
You can send us the signage quotation a few different ways depending on your systems.
A: Choose the print button and Print, then fax to us.
B: Choose the print button and if you have a PDF creator, create a PDF and send via email to products@quicksmartsigns.com
C: Select All, Cut and paste into MSWord, or your email message or attach the file.
Then, when you have the signage quotation, send it to us.
Once receiving your quotation, our in house art department will create a thumbnail proof for you. Example PDF HERE

Go to online sign price calculator HERE >





Signage and Banner Signs with online signage estimates and prices. AUST

Laser cut metal signs.

Laser cut plastic signs.

Vehicle Signage.

Corporate signs in Aus.

Banner Stand signs.

Full color sign printing
directly onto sign panels
and flexible sign
materials.

Easy to use menu
System takes you
through our entire site.

Billboard Advertising
company sign makers with full colour imagery.
Australia wide
sign manufacturer.
Outdoor banner
Signwriting
Shop signs and
Building signage.
New Online Signage
price calculator -
Compare prices,
signage materials &
lots more INSTANTLY
Shows GST & delivery.

New Toll Free Phone Number

1800 815 166
Call our Banner Sign company in Australia anytime for one to one advice on cheap sign making, graphic design and signwriting in Australia.
Adelaide Brisbane Canberra Darwin Hobart Melbourne Sydney
Go to our online sign pricing HERE >