Mesh
FENCE WRAPS
Fence Wraps > New printed 50m Fence Wrap with LOGO and PHOTO This is an exciting development and as more events use signage on the barrier fencing for crowds and public meetings. Fence wrap is also becoming popular for construction and building companies that want to a) seclude the building site with a printed wrap and b) building companies that want to use the temporary fencing to make a big billboard for their company. It is a great idea.
New website has a fence wrap template maker and fence wrap price listing for trade buyers (wholesale)

For the fence wrap template maker go to TEMPLATE here

For the fence wrap price list (custom size and wholesale) go to PRICE here
The process is a Duracoestatic printing technique on a shadecloth style material (poly weave) and gives amazing results better than old fashioned single print shadecloth. Customers can choose step n repeat or full color.
The Durabanners.com product is one of the most respected services in the world for supplying fence wrap printing to events and festivals, for the construction industry and for general advertising. Their new 180d and Maxi-Mesh fence wrap development includes a special surface coating that absorbs more ink and heralds the way for cheap signage that is low priced with incredible print results. It is available wholesale and includes delivery to over 150 countries.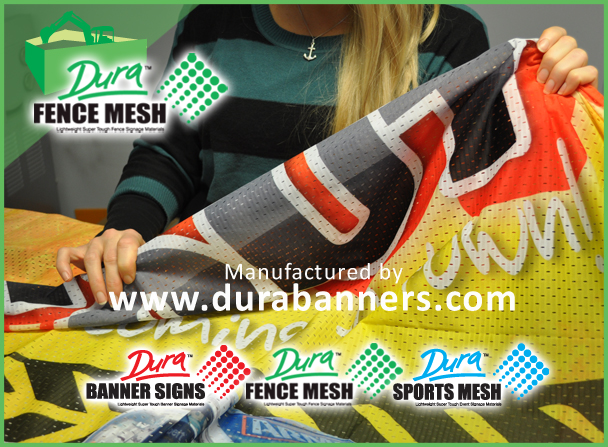 The total range of graphics can be used. Fence wrap customers include freelance graphic designers in Brisbane, Advertising agencies in Sydney, project managers and building companies in Melbourne, major Adelaide events, the client base is broad and many now rely upon their wrap here. Your ideas can be very quickly adapted to the product.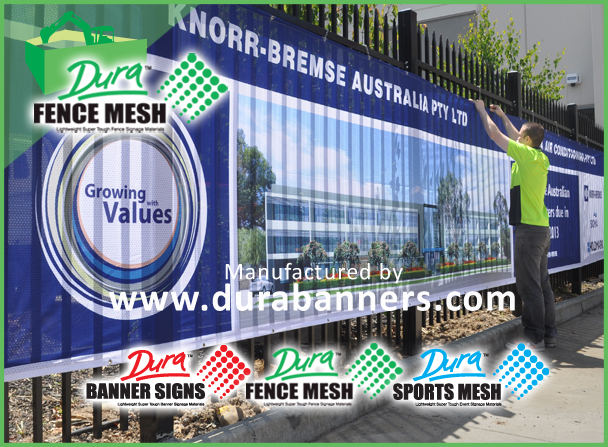 One very exciting point is that the www.durabanners.com website has a all a designer needs to create the graphics. Their new template system allows any custom size request and it will output a full resolution photoshop file that the designer can open and begin to place their images. The custom template includes the appropriate bleed (or as it is referred to as MOS (Material Over Size)) which gives the designer the perfect file. Their template is super fast and it is free.
Options that the freelance designer can choose include the standard fittings such as grommets along with being able to reference whether the template will be landscape orientation or portrait orientation.
They also include a more simplified technique known as their DESIGN WIZARD for the user who may not be adapt at creating large graphics. It is brilliant.
Cudos goes to www.signsbannersonline.com Learning Center for making such a service so simple for the trade buyer and with banner prices so low it affords any wholesaler nice margins.
---
They also provide a free phone number for any question related to mesh banner signs and fence wraps
AUSTRALIA 1800 775 095